On behalf of Stichting Philadelphia Zorg, the team at the Westerhof site in Vlissingen (a facility for older people with a mental handicap) received the 500th "NightWatch" night-time epilepsy detection system from Jeroen van den Hout of LivAssured, surrounded by a large group of residents and healthcare professionals.
Stichting Philadelphia Zorg is one of the larger healthcare institutions in the Netherlands for people with impairments. Epilepsy is relatively common amongst the 8,200 permanent residents of Philadelphia. They, therefore, have a great deal of experience in caring for people with this condition and the challenges that present. In addition, the healthcare professionals at Philadelphia are a leading force with regard to testing and implementing technological healthcare innovations if these offer a substantial improvement in care.
Suzanne Rocher, Site Manager: "Until recently, it was difficult to monitor clients with epilepsy effectively during the night. The NightWatch provides a welcome solution to this. It is reassuring for family members and for ourselves to know that employees are now alerted in good time in the event of an epileptic seizure."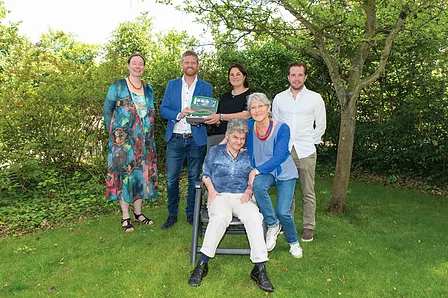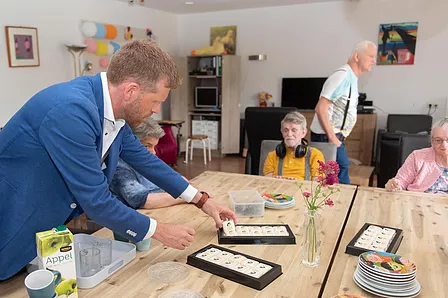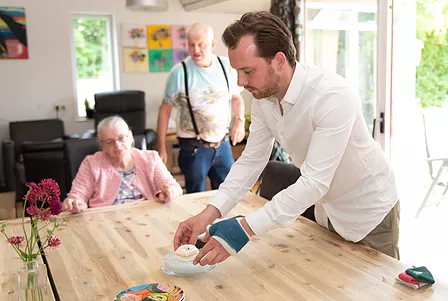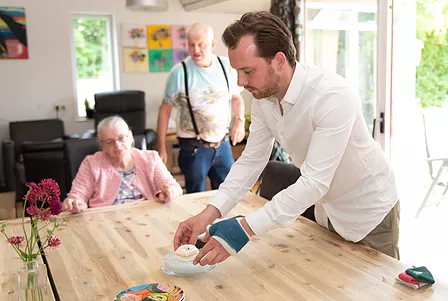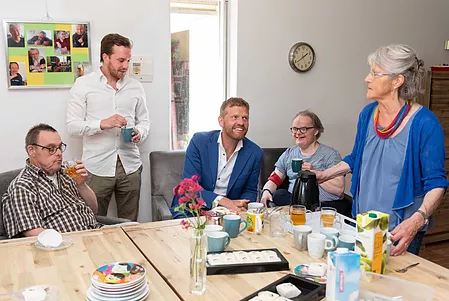 The NightWatch is a Dutch innovation developed by a consortium of neurologists from SEIN, Kempenhaeghe, UMC Utrecht, TU/Eindhoven, the Epilepsiefonds foundation, and people involved with epilepsy in practice. The NightWatch is an armband that detects epileptic seizures during sleep and alerts caregivers remotely. That way, complications or instances of death during sleep as a result of epilepsy are reduced. After many years of research and development, the NightWatch appeared on the market last year thanks to a crowdfunding campaign. The NightWatch has meanwhile become an indispensable part of the night-time care regime of epileptics for hundreds of Dutch families and professional users.
Jeroen van den Hout, CEO of LivAssured: "It is fantastic to see how an innovation such as the NightWatch has been embraced by the Dutch healthcare market. The delivery of the 500th unit is an important milestone and serves as validation for everyone who has worked on this unique development. It is particularly satisfying to present this specific unit to Stichting Philadelphia Zorg, where there is so much experience and expertise in caring for people with epilepsy."