Clinical validation of NightWatch
NightWatch uses a combination of sensors that track movement patterns and changes in heart rate with a high degree of accuracy. A smart algorithm determines whether these signals indicate a possible nocturnal epileptic motor seizure.
An extensive study conducted by the SEIN Kempenhaeghe epilepsy institutes in the Netherlands, involving a large group of patients who participated for thousands of nights, demonstrated that NightWatch detected 96% of the most dangerous seizures and alerted the caregivers in time. This is significantly better than alternative products currently available on the market. The study was published in the medical journal Neurology.
​The NightWatch study is ongoing. An extensive study examining the impact of NightWatch on the quality of life for families where someone at home has epilepsy is currently ongoing. The initial, promising results were presented at the Second International Congress on Mobile Health Devices and Seizure Detection in Epilepsy in Lausanne on 6 and 7 September 2019.  Field tests with NightWatch are also currently ongoing at various European clinics.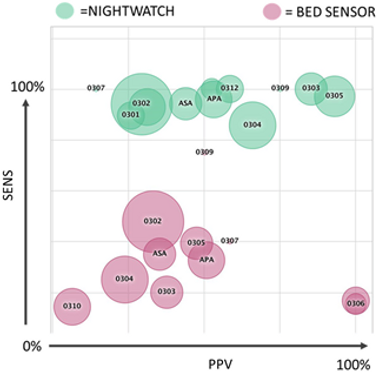 The efficacy and benefit of seizure detection
Across the world, much research is being conducted into reliable methods and new technology to enable the early detection of dangerous epileptic seizures, because care for people with epilepsy remains a key area of focus. The primary motivation for this is the fear that a person may have a major nocturnal epileptic seizure that goes unnoticed and subsequently dies unexpectedly (SUDEP).
Recent scientific publications confirm that SUDEP (Sudden Unexpected Death in Epilepsy) poses a very real risk for people with severe epilepsy. Research has revealed that the average risk of SUDEP for someone with uncontrolled epilepsy is 3.5 in 1,000 every year. By comparison, that is 100 times the average risk of being killed in a road traffic accident in the Netherlands.
The fact that night-time monitoring can help reduce the risk of SUDEP has also been confirmed.  Marije van der Lende et al. reveal that care institutions with reasonable monitoring had 3x fewer cases of SUDEP than institutions without monitoring. Olafur Sveinsson et al. reveal that the risk of SUDEP is as much as 5 times higher in patients living alone.
A unique collaboration between science, practice and industry
The Dutch TeleEpilepsy consortium is a unique collaboration between Dutch epilepsy clinics, the Epilepsiefonds (Dutch Epilepsy Society) and the Eindhoven University of Technology. The consortium of science, practice and industry combines all the necessary disciplines to create effective solutions for one of the key challenges in epilepsy care:
​How can we enable people with severe epilepsy to sleep safely without placing too much burden on caregivers and with minimal loss of privacy and quality of life?
NightWatch is one of the most significant results of this collaboration and LivAssured BV is a spin-off company set up to market NightWatch. The neurologists and scientists involved in the consortium continue to research and develop ways to improve the treatment and safety of people with epilepsy. The scientific results and practical experience acquired during treatment, guidance and support are used to continuously improve NightWatch.